Barry M. Prizant, PhD, CCC-SLP, is among the world's leading authorities on autism, and is recognized as an innovator of respectful, person-and family-centered approaches for individuals with autism and neurodevelopmental disabilities. With more than forty years of experience as a scholar, researcher, and international consultant, he is an adjunct professor at Brown University, a certified speech-language pathologist and director of Childhood Communication Services, a private practice. Barry is coauthor of The SCERTS Model: A Comprehensive Educational Approach, now being implemented in more than a dozen countries.
He has published four books, more than 130 articles and chapters and has received many awards, including the Honors of the American-Speech-Language-Hearing Association (their highest recognition), the Princeton University Eden Foundation career award in autism and the "Divine Neurotypical Award" of GRASP, the world's largest autistic self-advocacy organization.
Dr. Prizant offers consultations: https://barryprizant.com/about/contacts/
Workshops and presentations: http://barryprizant.com/presentations/
Uniquely Human: A Different Way of Seeing Autism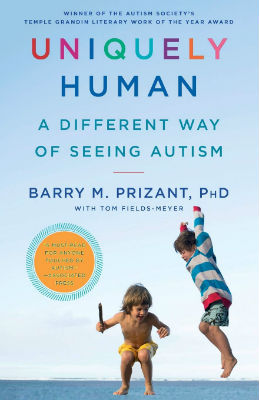 A groundbreaking book on autism, by one of the world's leading experts, who portrays autism as a unique way of being human–this is "required reading….Breathtakingly simple and profoundly positive" (Chicago Tribune). Autism therapy typically focuses on ridding individuals of "autistic" symptoms such as difficulties interacting socially, problems in communicating, sensory challenges, and repetitive behavior patterns. Now Dr. Barry M. Prizant offers a new and compelling paradigm: the most successful approaches to autism don't aim at fixing a person by eliminating symptoms, but rather seeking to understand the individual's experience and what underlies the behavior.
The Scerts Model: A Comprehensive Educational Approach for Children With Autism Spectrum Disorders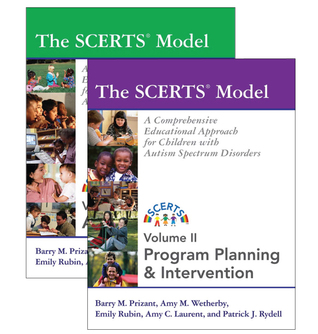 A groundbreaking synthesis of developmental, relationship-based, and skill-based approaches, The SCERTS® Model provides a framework for improving communication and social-emotional abilities in preschool and primary school students with autism spectrum disorders (ASD) and their families. Developed by internationally recognized experts, SCERTS® supports developmental progress in three areas: Social Communication (communicating spontaneously and establishing relationships), Emotional Regulation (regulating emotional arousal to support learning and engagement), and Transactional Supports (elements that aid a child's progress as he or she works toward a goal).
Preventing Problem Behaviors for Students with Developmental Challenges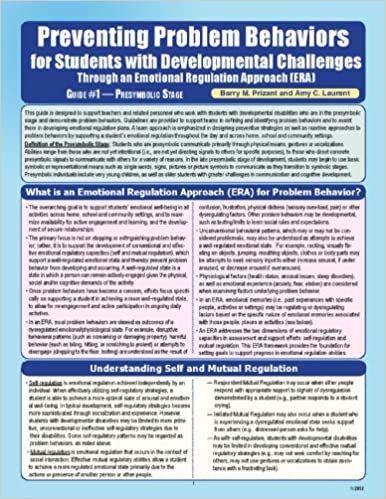 This reference guide provides practical, respectful, and innovative ways to assist students with problem behaviors, in a manner that supports their ability to stay well-regulated emotionally, and to maximize learning, social participation and relationships in everyday activities and routines. Preventative and responsive strategies are presented. Designed for students who are presymbolic, or who are just beginning to use symbols (words, signs, pictures, picture symbols) to communicate. This would include developmentally young children and older students with greater challenges in communication and cognitive development.