Raun D. Melmed, MD, FAAP, a developmental and behavioral pediatrician, is director of the Melmed Center in Scottsdale, Arizona, and co-founder and medical director of the Southwest Autism Research and Resource Center. He is the author of Autism: Early Intervention; Autism and the Extended Family; and a series of books on mindfulness for children: Marvin's Monster Diary: ADHD Attacks, Timmy's Monster Diary: Screen Time Stress, Harriet's Monster Diary: Awfully Anxious, and the next in the series, Marvin's Monster Diary 2 (+Lyssa): ADHD Emotions.
Dr. Melmed has been instrumental in setting up nationally recognized physician training programs for the early identification of infants and toddlers with developmental and behavioral concerns and has authored a program geared toward the early screening of autism spectrum disorders.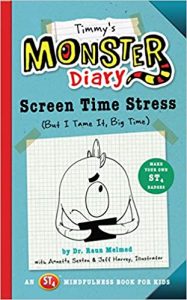 Timmy's Monster Diary: Screen Time Stress (But I Tame It, Big Time)
Meet Timmy, a lovable monster who can't get enough of the coolest gadgets and video games. Too bad he doesn't realize how much time he spends each day in front of a screen.
In the same humorous spirit of Diary of a Wimpy Kid comes Timmy's Monster Diary: Screen Time Stress . Using the Time-Telling" and "ST4" techniques developed by Dr. Raun Melmed of the Melmed Center in Arizona, Timmy's Monster Diary teaches kids how to self-monitor the amount of time they spend on technology. Timmy's hilarious doodles and diary entries chronicle his delightful adventures, misadventures, and eventual triumph in a funny, relatable way. It's the one book that kids will want to turn off the TV and read!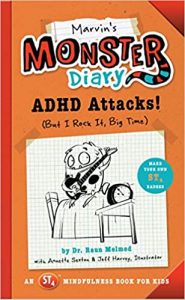 Marvin's Monster Diary: ADHD Attacks! (But I Rock It, Big Time)
Meet Marvin, a lovable monster with a twelve-stringed baby fang guitar, a rambunctious case of ADHD, and a diary to record it all. His teachers scold him, his parents don't know what to do with him, and his sister is convinced he was raised by triple-tailed monkeys. In short, Marvin's life is feeling out of control – until a secret formula changes everything.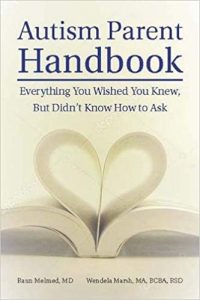 Autism Parent Handbook Fast Facts: Beginning with the End Goal in Mind
A roadmap is needed, a handbook to refer to when all seems overwhelming. The priorities are to begin the healing process and to start treatment. The way to ensure success is to begin with the end goals in mind. It is remarkable how things fall into place once a vision of the future is formulated – a productive, upstanding, and most important, happy adult!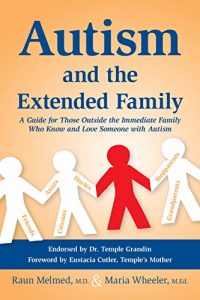 Autism and the Extended Family: A Guide for Those Outside the Immediate Family Who Know and Love Someone with Autism
Not many resources examine how autism affects grandparents, aunts, uncles, and cousins. Yet, they are all affected by this disorder, too! Follow Dr. Raun Melmed, Developmental Pediatrician, and Maria Wheeler, M.Ed., as they examine the complex relationships that develop, and are changed by an autism diagnosis in the family.